I let my mom fuss over flowers. I knew finding the best DJ mattered more.
Planning a wedding means having a thousand things on your mind. Believe me, I get it. The only thing longer than my wedding to-do list was the one my mom made for herself. While she fussed about invitations and cake designs, I kept my top priorities simple: track down a beautiful dress, choose a great venue, and find the best DJ.
From all the weddings I've been to over the last few years (think: life in your early 30's), I knew all-too-well that a wedding DJ could make or break the whole night. If I wanted our wedding to be a success, my first step would be finding the best DJ in Michigan.
How did it go? Let's say, there aren't many times I get to tell my mom, "I was right!". I found the very best DJ for our wedding and here's why it mattered:
That feeling – when you first join your guests as a married couple? Yeah, it matters.
Of course, as you plan your wedding, you envision how it will feel to say, 'I do' in front of the people you love most. It's powerful, fueled by deep love, and…well, it's life-changing.
I'd kind of expected that part. What I hadn't expected, was the emotion of another, more private moment. It was standing outside the reception hall doors, after we'd finished photos, waiting to be introduced as a married couple.
Waiting to be introduced as Mr. and Mrs., knowing our loved ones were waiting to greet us, made my heart jump to a new rhythm. It made the hairs on the back of my neck rise. After making it through the wedding vows without crying, this moment was so big, so real, it caught me by surprise.
Luckily, we had the best DJ to walk us through the next steps. Seth, our wedding DJ from Michael's Entertainment, had the moment in hand. He organized our group and explained how the announcement would unfold. His certainty helped me stay calm and absorb the moment.
Little things make big moments
Having the best DJ matters for reasons you might never expect. They can take details and worries off your plate. They can help turn little things into memories you'll keep forever.
That moment, just before we were announced as a married couple? Seth made sure he knew how to pronounce the names of my bridal party, before introducing us all to the room. I had two bridesmaids whose names I've never (I mean never) heard pronounced correctly by strangers.
Here was Seth, taking the time to make sure he got them right. Then he announced them with confidence and excitement, to the music… the whole thing felt perfect. My bridesmaids were super grateful.
Another detail you want your DJ to get right? Volume! We've all been to weddings where the music drowns out the couple's announcement, the cake cutting, or the meal itself.
Don't get me wrong, in my opinion—music makes a wedding. It sets the tone for almost every part of the night. But it doesn't need to take center stage the whole time.
In short, one of the best DJ qualities is a keen understanding of music volume. Thankfully, Seth was completely dialed into the details of our night. At all the right moments, the music faded to just the right volume.
You'll always remember the party
Another reason I knew it was important to have the best DJ was the party itself. By the time you are dancing at your wedding reception, you're finished worrying about flowers and hairstyles and all the details my mom had on her mind.
By then, it's all about the party. I wanted music that would have my bridesmaids running to the dance floor, music that would pull everyone from their seats.
As you might guess, because I had the best DJ around, the dance floor was never empty at my wedding. By the end of the night, my bridal party, childhood friends, cousins, and family friends were rosy-cheeked, smiling from all their dancing.
The best compliment of all?
Before the night ended my new mother-in-law slipped her arm around my waist and said, "I don't know how you did it, but you even got Aunt Barb dancing tonight!"
I smiled. "Yeah," I said. "She's got some moves."
Inside, I thought—that's what happens when you find the best DJ for your wedding.
The best DJs keep step with the night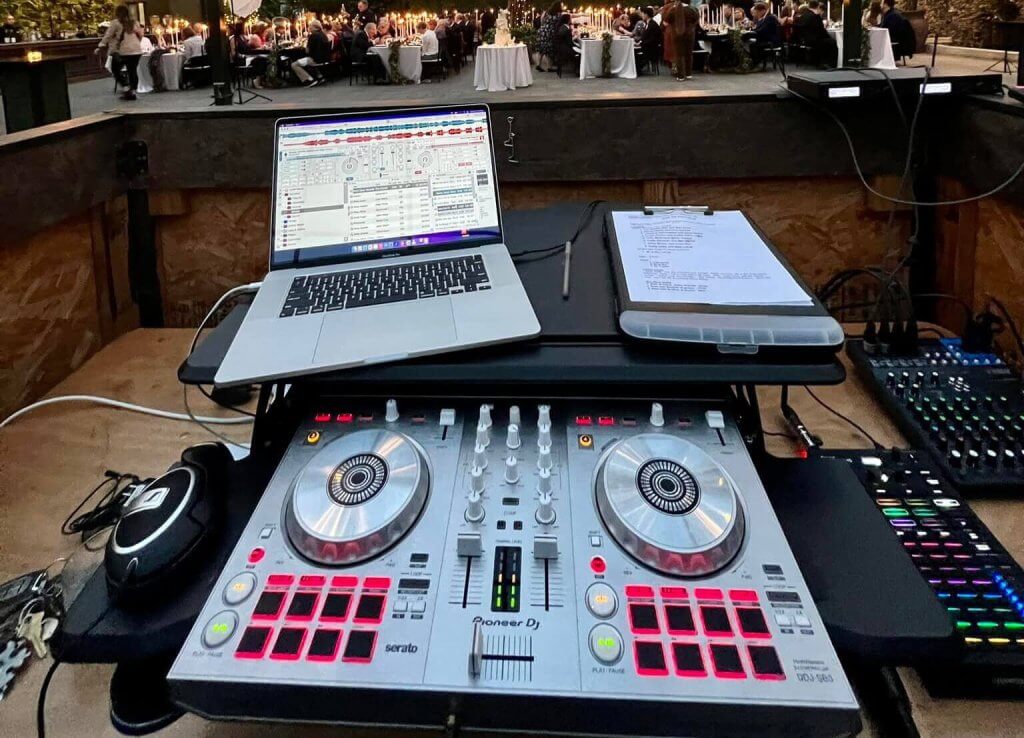 Of course, as the night goes on, the mood and atmosphere of a wedding evolve. There are natural peaks and valleys—the best DJs know how to react and guide the night.
By the time my shoes were off for good, I still had some dance left in me. Seth watched the room carefully. He drew different crowds onto the dance floor, anticipated shifts in mood, and reacted to the sight before him.
By the time our first guests were saying their goodbyes, I was happy, exhausted from the emotion of the day, but thrilled the night had gone so well. I had the best DJ, which helped create the very best wedding (for me).
The list that changed everything
In my search for the best wedding DJ, I used a list of criteria. In case it's helpful as you plan your own wedding, here is what I looked for:
Experience. You want your wedding DJ to know the ins and outs of weddings. You need them to have seen, firsthand, what works and what doesn't. You want your wedding DJ to know exactly how to get your guests up out of their seats and dancing.

References. This one is important. You want more than someone who liked a wedding DJ, you want them to say, "OMG…I had the very best DJ! You need to use them!"

Versatility. Of course, it helps if your wedding DJ is more than just a DJ. I was looking for a company that specialized in drone videography and wedding photo booth services. In the end, Michael's Entertainment offered far more, including uplighting for my wedding hall and wedding videography services.
Of course, I needed a Michigan-based DJ service, but you will have your own location parameters as you search for the best DJ for your big day. Good luck and congratulations on your engagement!
A final piece of advice?
Don't be afraid to say, "I told you so" to your mom. When it comes to your wedding, it's worth it!
Michaels Entertainment serves Detroit and southeast Michigan with first-class wedding services, including DJ services, wedding photo booths, wedding uplighting, and wedding videography—including drone wedding videography. They are awesome at building relationships, and you can tell by all of the awards and recommendations they have received, including more than 400 5-star ratings for their wedding services.
Once you've booked a venue for your big day, contact Michaels Entertainment to talk about their wedding services. It's like a one-stop shop, they will deliver peace of mind with experienced DJ, videography, and photo booth services you can trust. They will help you create the wedding of your dreams.