If you are planning a wedding, DJ services are almost certainly on your 'to-do' list. The right wedding DJ sets the tone for your reception and after-party. Skilled DJs are organized, perceptive, and flexible—they can take your big day from average to unforgettable.
In short, finding the right DJ is important for your peace of mind. You want to spend this part of your wedding budget strategically, so you can enjoy your reception as much as your guests.
So, how do you make sure your wedding DJ has what it takes to create a night of magic? We've got you covered. Here are nine costly mistakes people make when hiring a wedding DJ (and how to avoid them).
Skipping reviews and reference checks
When it comes to wedding vendors, reviews and references are critical. You'll see an overall rating from previous clients and get a feel for specific elements people have loved (or not).
When you check online reviews, look for patterns in overall sentiment and details. To go one step further, ask to speak directly to former clients and/or venue managers. A quick conversation can set your mind at ease.
Skipping this step—signing on with DJ services without checking references—can be costly, both in terms of the money you spend and the disappointment you might experience.
Helping a friend
When it comes to weddings, most brides or grooms have been asked a common question:
"Do you need a DJ? My friend/cousin/neighbor is getting into the business…"
While it's tempting to help out a new business, the contribution of an experienced DJ is too important to trust to an amateur. A great DJ understands the flow and rhythm of a reception, reads the room, and responds appropriately—these are learned skills that only experience can deliver.
Hiring a new event DJ for your wedding may be less expensive than hiring an experienced team, but you run a much higher risk of disorganization and overall disappointment.
Hiring a DJ without the right experience
While you might think about hiring an event DJ you've used for a work function or birthday party, it's important to remember that weddings have their own norms, peaks, and valleys.
You want a DJ who understands wedding protocols and expectations while taking the time to understand your own vision for the night. The key takeaway is this—don't assume any event DJ will do. You'll only be at your wedding reception once — make sure you have a professional for the job.
Going for one-track talent
As the wedding couple, you want your guests to enjoy your big day. When it comes to the reception, you want them to get up off their seats, participate and dance.
The right wedding DJ knows how to read a crowd. While it can be hard to get everyone dancing at once for an extended time, a skilled wedding DJ will use different music for a range of ages and musical tastes.
If you hire a DJ who specializes in a limited range of genres, you may find your guests sitting for more of the wedding than you would like.
Choosing a messy DJ
Sometimes, the hardest part of selecting wedding vendors is knowing the right questions to ask. When hiring a DJ, you may not question their overall presentation, but it is an important conversation to have.
Some venues require the DJ to set up in the middle of your reception room. If your DJ has a messy table, with wires, cords, and extensions hanging everywhere, you'll automatically have an eyesore in the middle of your otherwise beautiful room.
Unless you ask (don't be afraid to ask to see pictures), you'll run the risk that your DJ's setup will tarnish the images captured at your reception.
Not checking your wedding DJ's technology
On your wedding day, you want to make sure your vendors are backup-ready. Just as it's important for your photographer to have backup cameras and batteries, it's critical your DJ has a backup plan for speakers, amps, and music.
Be sure you ask if your DJ plans to stream music; if they do, make sure they have a backup plan, in case the signal is weak or down. Knowing they are ready for any circumstance will give you peace of mind on your big day.
Mistaking ego for confidence
While it's easy to be drawn to the natural charm of a confident DJ, no vendor should be stealing attention from you on your big day.
As you decide where to spend your money for your wedding DJ services, ask to see videos of the DJs in action. The last thing you want is a DJ who takes over the room with his or her ego. This day is about you, after all. A skilled DJ will keep things moving while keeping the focus on the wedding couple.
Overestimating your wedding DJ
The flip side of a DJ who takes over the show is one who sinks into the background. Another reason to do research is to make sure your DJ is willing to play the role you need.
If you need them to MC your reception, for example, they should be confident speaking to a crowd and setting the tone for a room. Be sure to ask for references who have used their services this way.
Without asking the right questions, you may find yourself paying for a wedding DJ who isn't up for the entire job.
Choosing a solo act
Finally, as you look for the right DJ for your wedding, think about the depth of their DJ services. Is your top pick a solo act? What will happen if they are sick or have a family emergency on your wedding day?
Given the context of the pandemic, we all have a greater appreciation for staying home when we're not well. The best way to avoid being stuck without a DJ at the last minute is to go with a DJ service that is deep in both experience and manpower.
Michaels Entertainment Wedding DJ/MC Services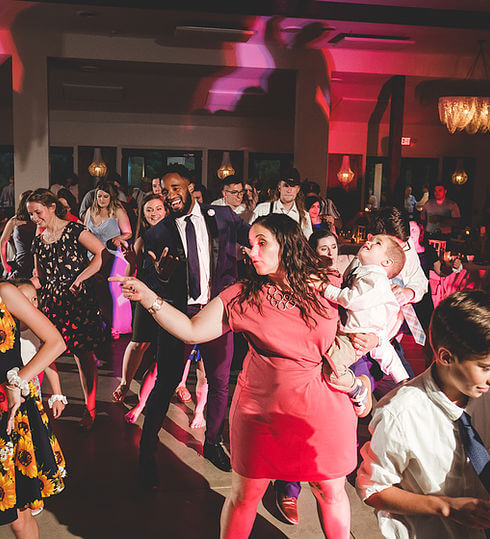 At Michaels Entertainment, we serve the Detroit Metropolitan area with first-class DJ services. We're proud of the awards and recognition we have received, including more than 400 5-star ratings for our wedding services.
Contact us to talk about your wedding day. We'll deliver peace of mind with experienced DJ services you can trust. We're ready to help you celebrate, with a clear focus on making your big day about you.