While there are no rules, it helps to be prepared.
As your wedding draws near, your mind is likely running with hundreds of details. What time will the flowers be delivered? Are the welcome baskets ready for out-of-town guests? With so much to think about in the days leading up to your wedding, you may forget to ask yourself one more question — should I tip my wedding DJ?
For many couples, the question arises later than they would like. They only ask whether to tip their wedding DJ in the hours before their ceremony. Some even track down their wedding planner or event organizer at the reception to ask:
"I feel like I should know this, but do I tip my wedding DJ?"
Naturally, asking yourself this question at the last minute can be stressful. If you consider the question ahead of time, you'll give yourself more room to consider options.
While there are no hard and fast rules around tips for wedding DJs, we've pulled together a few ideas that might guide your decision.
Your wedding DJ – a "thank you" service
When you are thinking about tipping for a service provided, you likely use a couple of categories for decision-making.
First, you probably think about front-line service roles that commonly receive a lower hourly wage with the understanding that tips will make up for it. Due to this custom of extra payment in exchange for good service tips has become a built-in expectation for certain jobs. The wait staff at a restaurant, hairdressers, or the cleaning staff at a hotel—are all examples of this.
Second, you likely view tips as a way of saying "thank you" for the services provided. When it comes to your wedding, you will be filled with gratitude when someone helps your day run smoothly or goes above and beyond to make your wedding reception special.
Your wedding DJ, your wedding photographer or videographer, your live musicians, banquet manager, and bartenders— each of these contribute to the overall experience of your wedding. At some point, you may want to tip these vendors if they've done an exceptional job to express your thanks.
For both categories of tipping, it helps to be prepared ahead of time—to have cash on hand and know how much you would tip if the service was good, great, or exceptional.
Weddings: the perfect opportunity to go above and beyond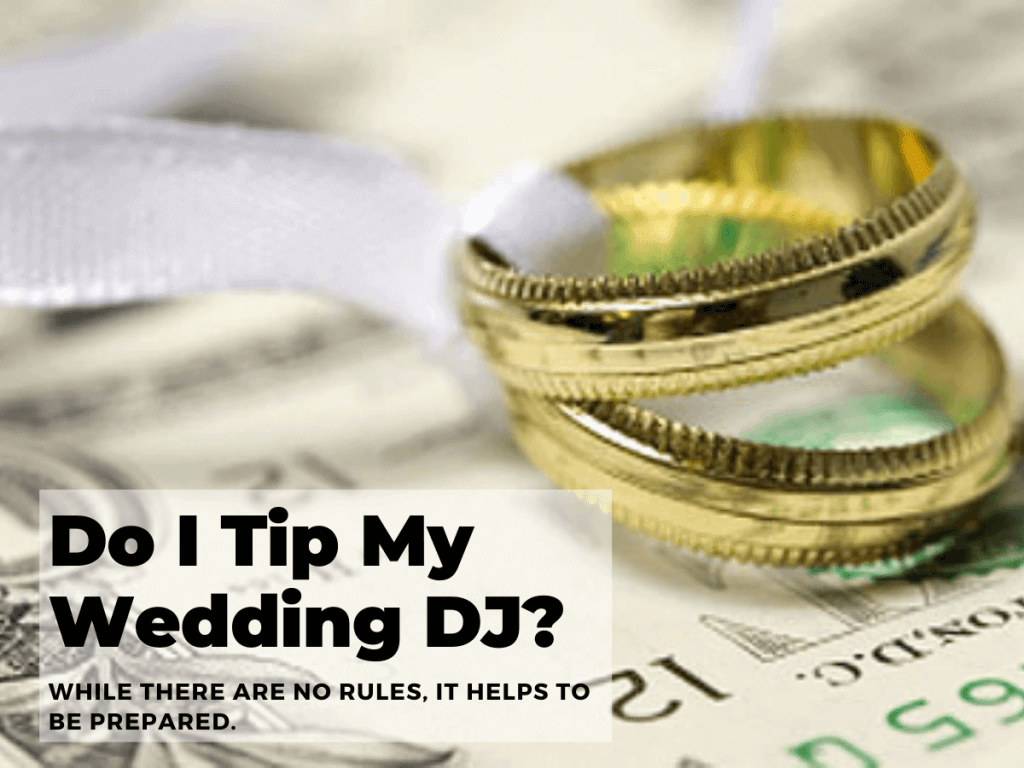 While wedding vendors tend to be fairly paid for their services, many will go above and beyond to make your day as special as it can be. You may be blown away by their attention to detail and their professionalism. So, how do you decide which ones you might tip?
Make a good list! In the weeks leading up to your wedding, make a list of all your vendors, to determine which you would most like to tip. Be sure to check vendor contracts, as some will include gratuities in their fees. If you have a set budget for tipping, you will want to make sure you allocate where you plan to spend it.
For example, maybe your wedding DJ will double as the emcee for the night. Maybe your banquet manager has gone above and beyond to make your night special. You'll want to have a bit of wiggle room, to adjust between tips you think you should pay and others, where you want to show your thanks.
If a vendor outperforms your expectations, it feels good to say thank you. Don't be afraid to express your gratitude through a tip. While many wedding vendors will not expect tips, they are always genuinely appreciated.
Trust your instinct
The bottom line is, that although there are few direct rules around tipping for wedding DJs, it's best to listen to your instinct.
While most wedding DJs will not expect a tip, they will be truly grateful if you decide it is appropriate. If your instinct tells you that your wedding DJ did a great job and it would feel good to tip them as a way of thanks, you should go ahead and do so, as an expression of gratitude.
In short, tipping your wedding DJ is never expected, but always appreciated, if you're truly delighted with the work they've done.
A 5-star review — another way to say thank you
Of course, not everyone has the budget to tip, over and above the cost of a wedding. If you are thrilled with the work of your wedding DJ and want to say thank you without a tip, consider leaving a heartfelt review.
Giving your wedding DJ a 5-star Google review does three primary things. First—it offers genuine thanks. If you feel grateful for the work your wedding DJ put into your wedding, a 5-star review is a way to publicly thank them. It acknowledges their skill and effort while letting other couples know they are a reliable vendor.
Second, by writing a positive review—a genuine testimony to your wedding DJ—you help other couples know exactly what you liked about their service. For example, perhaps you expected the night to run smoothly but were blown away that your wedding DJ said the difficult names of your bridal party perfectly or that he/she took the time to understand your unique plan for your choreographed first dance. Whatever the details, when you write a genuine review, others can see examples of the small details that might be meaningful to them.
Finally, in the world of search engines, 5-star reviews are extremely important. They not only offer a strong reflection of a business but also help others to find it. If, for example, a bride-to-be is searching for a wedding DJ in her area, a business is far more likely to appear, higher in Google rankings, when it has 5-star reviews.
In short, online reviews matter. Of course, if you are thrilled with the service your wedding DJ provided, don't be afraid to do both—to tip your wedding DJ and leave a favorable Google review. Your wedding DJ will love that for sure!
If you're on the lookout for a wedding DJ for your big day, be sure to do your research. Look for exceptional reviews and have a conversation. This way, you can make sure you connect with their energy and that they understand your vision for your wedding. Ask to see a sample wedding contract. If gratuity is listed as a line item, you may want to consider it a red flag. A wedding DJ should only be tipped when you decide they've surpassed your expectations and you genuinely want to express your gratitude.
At Michaels Entertainment, we serve Detroit and southeast Michigan with first-class wedding services, including DJ services, wedding photo booths, wedding uplighting, and wedding videography—including drone wedding videography. We are proud of the relationships we build and the awards and recommendations we have received, including more than 400 5-star ratings for our wedding services.
Once you've booked a venue for your big day, contact us to talk about our wedding services. We'll deliver peace of mind with experienced DJ, videography, and photo booth services you can trust. We're ready to help you create the wedding of your dreams.